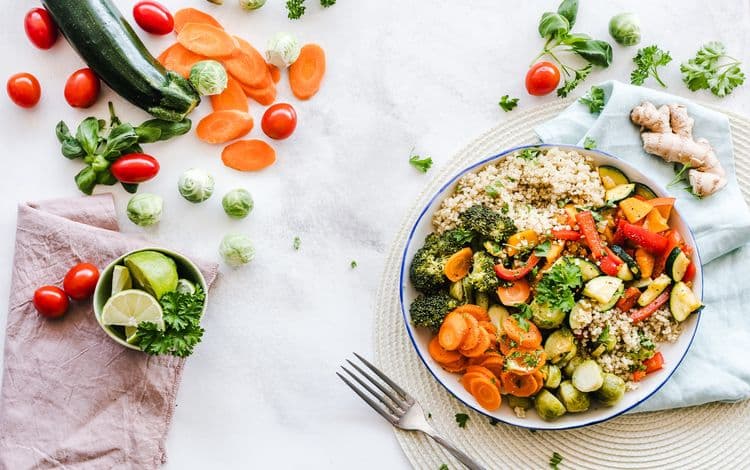 Tips/Tricks to Promote Healthy Habits in the Workplace
How can I promote healthy habits in the workplace? What can my business do to help employees make healthier decisions? Are there benefits I can offer my employees that can promote a healthier lifestyle? What are some of the top small-scale benefits I can offer my employees to have healthier habits?
When it comes to promoting healthy habits in your place of work can go a long way and can have long term effects related to employee retention, satisfaction, and engagement. Consider implementing some of the healthy solutions listed below in your workplace. You will find long term results along with happier and more engaged employees.
Snack Healthy
This may seem obvious, but just because a snack says it's healthy doesn't mean it is. If you provide snacks to your employees, make sure you're looking at the label. Healthy snacks are those that are low in sugar to prevent a crash, have a "healthy" amount of calories (around 85 to 250 for a snack for the average person/) to keep the energy and focus going, and a decent amount of fiber. Consider offering snacks that are easy to take on the go, but also consider offering snacks that allow an employee to step away and enjoy a bite alone for 10 to 15 minutes.
Some of the top companies to work for in the world (think Amazon, Apple, Bloomberg, Google, Windows, etc./) offer healthy snacks to their thousands of employees around the clock. Snacks should be nourishing, considerate of others (if you have a snack with grains and peanuts, make sure you have a nut-free version and a gluten-free version/).
Get Up and Move
An option to create a more open and stress-free environment is to bring your job outside. Sitting at a desk all day is exhausting and stressful. Your phone is constantly buzzing, your emails are always flashing, and a chat window is always popping up. Taking a step away from the office and having a meeting outside or while taking a nice walk can cultivate a healthy and open working environment. Something as simple as fresh air can change the mood and stress-levels of an employee who is close to burning out.
If the weather is not cooperating, consider having the meetings in a standing or walking fashion around your building. Of course, if you're going to disrupt others this is not a good idea, but getting up and moving gets the blood flowing and brain thumping with refreshing ideas and healthy thoughts!
Offer Ergonomic Assessments (with Accommodations/)
If your company can afford the accommodations, allow your employees to take an ergonomics exam to help assess the resources that would provide a healthier and more comfortable work environment. You may find that some employees would benefit from a sturdier, higher backed, lumbar supporting office chair. Others may benefit most from a standing desk. Whatever it may be, it will promote a healthier and more comfortable workplace for your employees.
Go Green
Consider the aesthetic of your office. Now consider bringing the outdoors inside. Fresh air, greenery, sunlight (great lighting/), and easy access to nature helps the body mentally and physically. Add plants around the office - not only will they add a beautiful scenery, but will promote healthier and fresher air every day.
Consider utilizing natural lighting to your office and using outdoornatural light bulbs around the office - there's nothing worse than a foggy, yellow light office space. Avoid fluorescent lights at all costs, as it has been proven to trigger migraines, fatigue, and mental strain.
Run In-Office Healthy Support Groups
Do you have a group of employees who would love a workout challenge? How about a group that would invest in an in-office weight loss group that met once a week? The reality is that you can bring resources to your employees. Consider the following in-office healthy support ideas:
Have a WeightWatchers representative conduct a meeting every other week during lunch, so there's a natural support group for WeightWatchers participants. Keeping a consistent schedule, along with being a part of a group that will help hold you accountable for your progress can go a long way in anyone's life.
Plan a Biggest Loser weight loss challenge for a specified time frame. This will cultivate healthy competition, but even more so, teamwork and support. You will see some of the best attributes of teammate support come out during challenges such as these.
Organize and encourage company employees (and family members/) to participate in a 5K. It doesn't matter if your employees choose to run or walk, it's the promotion of movement while helping a cause that brings everyone together. Not to mention, you'll have the opportunity as a team to raise money for a great cause!
Create an obstacle course race group (such as Spartan Race, Color Run, Tough Mudder, etc./), train together, compete together, finish together. The promotion of health, collaboration, and support will not only improve participating employee's health but carry through to the office.
Up the Ante
Are you still looking for a way to promote a healthy life for each of your employees? Consider taking it a step further and either (1/) subsidize employee gym memberships, (2/) reimburse employees for exercise classes and gym memberships up to an identified price point, or (3/) team with a gym that can offer your employees membership discounts (group rate/). It is proven that if an employee is offered a gym membership as part of their employee benefits package, they are more likely to join a gym. If you want your employees to be healthy, then give them the tools to do so.
Do You Want to Look at Your Financing Options?
If you find yourself needing to find funding for your business, First Union Lending is here to help.
We have nine different business loan types to choose from. This means that we're uniquely qualified to help you find the perfect loan to open your small business.
Applying for a business loan doesn't affect your credit. Better yet, your business loan may be approved as soon as the same day.
To discuss our business loans with one of our lending experts, click here or call 863-825-5626. We'll talk about our various business loans and help you find the right one.
Get started with the process now by learning more about our business loan types.