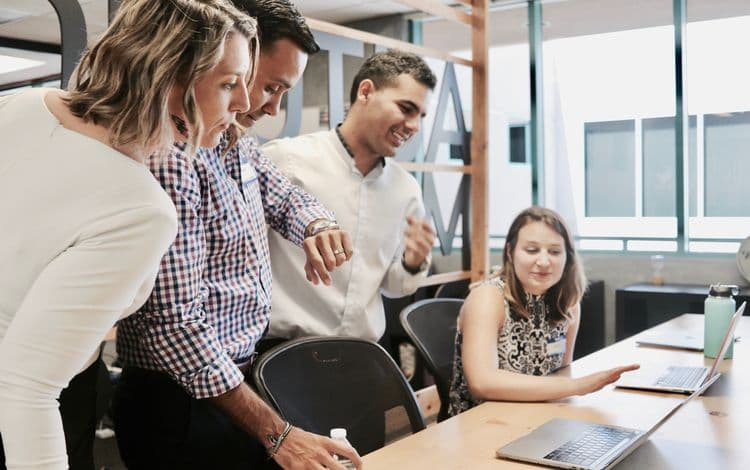 Top Benefits Employees Want
What are the top benefits my employees want? What options are out there for employee benefits? Which employee benefits are required by law? How can I show my employees I appreciate them through the benefits I provide them?
When it comes to benefits for employees, there are a plethora of actions for companies to take to keep their employees happy, healthy, and safe. You've hired the top candidates in your industry and with the right benefits, they have a better chance of staying at your company while performing at optimal levels. You'll prevent employee burnout, your employees will be more satisfied while missing fewer workdays, are less likely to quit, and have a higher commitment to meeting your company's goals. When employees feel their benefits needs are being satisfied, chances are productivity will increase. There are standard benefits that are required by law which can cause confusion when establishing benefits.
Employee benefits required by law:
Unemployment Insurance
Social Security Taxes
Family and Medical Leave
COBRA Benefits
Workers Compensation
Benefits not required by law:
Medical Benefits
Retirement Plan
Paid Time Off
It's important to start with what is required by law and then figure out what types of benefits align with your company. It's fairly easy to make mistakes during this process, which can be costly and can get you in financial trouble with your insurers or even your employees. It's important to take your time when deciding what benefits to include to avoid potential pitfalls. Benefits can be used as a recruitment process and retention tool that is used for the overall compensation process. Below are some examples of benefits that employees look for. Regardless of your budget, you should set aside additional costs to provide benefits for your employees.
Chances are, if you don't offer medical and insurance coverage you'll lose interest in potential employees as this is a crucial part of an employee's well-being. People aren't willing to work for a company that doesn't offer medical insurance coverage. Employees look for a solid retirement investment strategy, as well as other insurances, such as life, dental, vision, etc.. Planning is important for employees and if they are aware these benefits are offered by your company, you'll have a better chance hiring your ideal candidate.
Paid Time Off (PTO/)
Offering your employees paid time off (PTO/) will benefit their well-being and improve their physical and mental health. All employees will need time off at some point during their careers, so they can come back feeling rejuvenated and stress-free. Once they come back to work after PTO, they'll be more productive and have more energy to work. Overworked employees will eventually burn out which in turn reduces productivity. Worst case scenario, your employees lose interest and passion in their job and lack creativity. Employees benefit from having paid sick days, and workplace illness is a costly risk to your business. Make sure to offer plenty of paid sick days which will encourage your employees to stay home and rest when they need to.
Continuing Education
Employees who are passionate about their careers or are entry-level and want to continue to grow their skillset often look for companies that offer continuing education programs. Also, employees who want to grow within your organization, just maybe in a different direction (for example, your marketing coordinator finds she would love to get her PMP to become a project manager for your company/).
Continuing education can boost an employee's career in various ways and is a good investment for your company. Seeing the value in continuing education can spur growth in your company and sets yourself apart from other companies who are not willing to invest in the process. This could potentially save you money in the long run if you offer programs for current employees to enhance their skills, and you won't have to hire additional people to fill gaps in productivity.
Some examples of continuing education benefits include:
Tuition Reimbursement
Professional Groups
Conferences
Classes (certified and non-certified/)
Training
Financial Wellness Program
Financial wellness programs are on the rise and employees, especially those of the younger generation often look for creative and unique benefits. In a retirement survey, PWC's found that "U.S. employees still aren't confident about reaching their long-term goals, and retirement plans continue to serve as a safety valve for more immediate needs. As employees stress over uncertainty regarding healthcare and are pressed to support both aging parents and adult children, employers have an opportunity to help."
It can be overwhelming for employees to choose the right plan that works for them and causes added stress and anxiety. With a financial wellness program, employees have an additional resource to choose which plan works for them.
Employee Discounts and Office Perks
Offering discounts and providing office perks promotes positivity and well-being in the workplace. They keep employees engaged while helping them save money. It can help the employee feel appreciated, and unlike some other benefits, it does not require you to layout cash. Combining perks with other employee benefits helps the recruitment process be more successful.
Depending on the location of your business, employee discounts can differ. For example, if you are located in a larger city, consider offering discounted tickets to art galleries and Broadway shows. This helps employees get more involved in the cities culture and share the experience with family and friends. If employees have to work long hours they will appreciate a free meal and snacks around the office. Having this option could save you money because your employees won't be leaving the office as much and will increase productivity.
Fridays
Many employees look for extra paid time off, especially if they work in a high-pressure busy industry. Some employees with families benefit from working from home on Friday and need that extra time with their family. Also, summer Fridays are becoming increasingly popular and getting out of work a few hours earlier makes a huge difference in your employees' well-being. According to research, Captivate Network found that 45% of workers felt more distracted during the summer; another study by Opinion Research Corporation showed that 66% of employees who do have summer hours felt more productive—not less—as a result. Offering these options for Fridays can improve employee morale, increase productivity, offer better worklife balance, and save on operating expenses.
Pre-Tax Transportation
If you've found an ideal candidate but they live far from the office or need to use public transportation, chances are they will look for reimbursement for travel. Consider having tax-free commuter benefits, also known as qualified transportation fringes. It will reduce their monthly commuting expenses for transit, carpooling, bicycling, and work-related parking costs. Let's say your office is surrounded by expensive parking lots and you have employees who rely on their cars to get to work. If it's in your budget, include parking and your employees won't have the stress of paying daily or monthly parking fees.
Company Events
Employees want to be part of an exciting and dynamic workplace where they can also interact and meet other colleagues. They take company culture seriously and if the culture may not fit with their needs they can lose interest very quickly. Hosting company events helps employees feel validated, it promotes creativity and you'll have a focused team. Company events help employees feel engaged because they are valued and can see the bigger picture. Instead of just being stuck in their cubicles, they can connect with the rest of the company. They can see the importance of their position and the time and energy that went into the event. Even something as small as a company lunch or picnic can lead to a major boost in engagement.
Do You Want to Look at Your Financing Options?
If you find yourself needing to find funding for your business, First Union Lending is here to help.
We have nine different business loan types to choose from. This means that we're uniquely qualified to help you find the perfect business loan to open your small business.
Applying for a business loan doesn't affect your credit. Better yet, your business loan may be approved as soon as the same day.
Get started with the process now by learning more about our business loans.