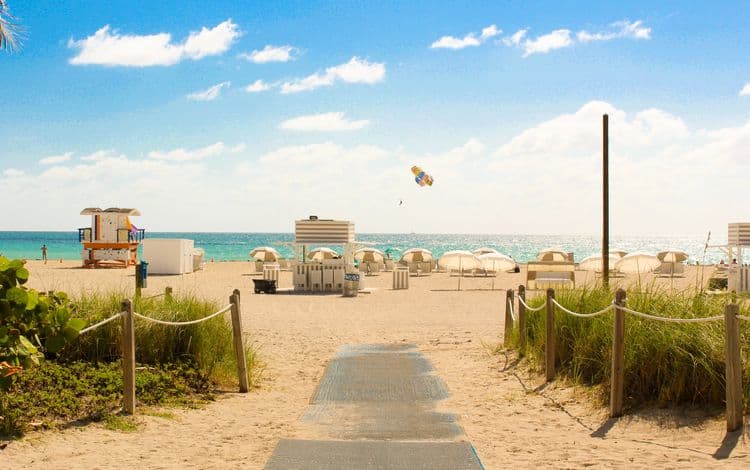 What Florida E-Verify Could Mean for Your Small Business
What is Florida's E-Verify federal database? What short and long term effects could Florida's E-Verify have on my business? Is Florida's E-Verify mandatory? How do I become E-Verified? How long does it take for a company to become E-Verified once applied? Are there repercussions to not becoming E-Verified? If I take federal contracts or subcontracts, do I need to become E-Verified?
Florida lawmakers introduced the E-Verify Bill intending to aid employers in identifying undocumented immigrants who are ineligible to work in the United States. According to e-verify.gov:
"E-Verify is a web-based system that allows enrolled employers to confirm the eligibility of their employees to work in the United States. E-Verify employers verify the identity and employment eligibility of newly hired employees by electronically matching information provided by employees on the Form I-9, Employment Eligibility Verification, against records available to the Social Security Administration (SSA) and the Department of Homeland Security (DHS).
"E-Verify is a voluntary program. However, employers with federal contracts or subcontracts that contain the Federal Acquisition Regulation (FAR) E-Verify clause are required to enroll in E-Verify as a condition of federal contracting. Employers may also be required to participate in E-Verify if their states have legislation mandating the use of E-Verify, such as a condition of business licensing. Finally, in some instances employers may be required to participate in E-Verify as a result of a legal ruling.
"E-Verify, which is available in all 50 states, the District of Columbia, Puerto Rico, Guam, the U.S. Virgin Islands, and Commonwealth of Northern Mariana Islands, is currently the best means available to electronically confirm employment eligibility."
E-Verify is not mandatory to be used by Florida business owners - it is voluntary unless of course, you work on government contracts or subcontracts.
There are always two sides to the argument as to whether E-Verify is the best way to handle illegal immigration in the United States. Some say that it should be mandatory for all business owners to subscribe to E-Verify to ensure only legal immigrants and United States citizens can gain employment. Others believe that E-Verify will increase business fines paid to the government, a lack of farmworkers across the country, and ultimately, an increase in poverty in many states.
But the reality is that we will not know what is going to happen until it does. Whether this becomes required on a state level is not happening at this point, however, the following represent some of the most-likely business results now that E-Verify has been passed in Florida.
You Become Part of a Network of Easy-to-Access E-Verified Businesses
The second your business becomes E-Verified, you become a member of an organic network, where you can easily be located by other businesses and job seekers. You can also find other businesses that are E-Verified that you may want to work with.
When you go to the E-Verify website, you can click through to search a list of E-Verified employers in the United States. You can search by:
Employer name
Doing Business As (DBA) name
Primary industry type
Workforce size
Number of hiring sites
Hiring site locations (by state)
By setting your Hiring site locations (by state) filter to Florida, you can easily find businesses to work with (or for) in Florida that are E-Verified. Any type of business networking is a win, and this can help generate more business once registered.
You may find going forward that some businesses who are E-Verified will only want to work with others that are also E-Verified. Oftentimes, businesses want to work with those that align with their beliefs and decision making, and if you decide to not become E-Verified, they may want to go with another company that is.
Registering Your Business and Become E-Verified
E-Verifying your business is easy and free of cost. From e-verify.gov/employers, you can access all of the resources provided directly from the service. To enroll, you need:
Business name
Parent organization (if applicable)
Contact information for your business's E-Verify memorandum of understanding (MOU) signatory

Name
Phone number
Fax number
Email Address

Business DBA (optional)
Data Universal Number System (DUNS) number (optional)
Business physical address
Business mailing address
Federal Employer Identification Number (EIN)
The first three digits of your business's primary North American Industry Classification System (NAICS/) code
Number of employees for all locations participating in E-Verify
Number of hiring sites participating in E-Verify for each state
All you have to do is provide all of this information, fill out the documentation on the website, submit the details, and wait to hear.
Once again, this is a free service.
Your Business Expenses Will Increase if You Currently Hire Illegal Workers
The reality is that hiring illegal immigrants has its financial benefits. You don't have to pay Federal Income, Medicare, and Social Security taxes. Remember: Florida does not have a State Income Tax. Also, you do not need to invest in their benefits, whether it be health insurance, life insurance, investment matching, or even the little perks you may offer employees (fitness matching, FSA pre-tax accounts, HSA pre-tax accounts, transportation pre-tax accounts, etc.).
So, you will have to spend more money on the employees you hire going forward if you become E-Verified, which does not keep the cost down, but ensures you are hiring legal employees.
Do You Want to Look at Your Financing Options?
If you find yourself needing to find funding for your business, First Union Lending is here to help.
We have nine different business loan types to choose from. This means that we're uniquely qualified to help you find the perfect loan to open your small business.
Applying for a business loan doesn't affect your credit. Better yet, your business loan may be approved as soon as the same day.
To discuss our business loans with one of our lending experts, click here or call 863-825-5626. We'll talk about our various business loans and help you find the right one.
Get started with the process now by learning more about our business loan types.