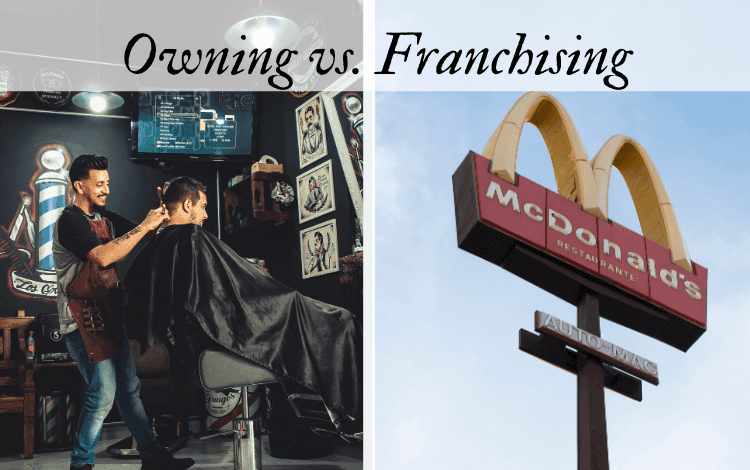 Starting Your Own Business vs. Investing in a Franchise
Should I start my own business or invest in a franchise? What are the benefits of investing in a franchise? When should I consider investing in a franchise?
Let's cut to the chase, investing in a franchise is way easier than starting your own business. Franchises are a nice way to guarantee clientele and often can cost less than starting your own business (with much less work!/). But there's something about owning your own business that cannot be taken away from you. So the question is, which direction do you take? Home business? Franchise?
The first thing to know is that there are two types of franchises:
Business Format Franchising: You buy into a business where the whole business concept is licensed and standardized (name, appearance, and day-to-day business and operations/).
Product & Trade Name Franchising: You buy products and trade name a franchise, where you are (a/) licensed to sell products manufactured by the franchisor (e.g., car dealership/) or (b/) licensed to manufacture and sell the franchisor's products (e.g., beer bottling/).
The second thing to know is that there is no wrong answer. You need to invest in what works best for you and what is sustainable for your location, services, and clientele.
Investing in a Franchise
If you are considering investing in a franchise, the franchise's business model and vision must align with your personality, because you are buying into the culture. Make sure the franchise also matches your skill set, experience, and motivation level. Once you buy into a franchise, you are tied to them until the end of your contractual agreement, so be smart with the decisions you make.
Pros of Investing in a Franchise
Franchises offer the independence of small business ownership, with that benefit of a big business network.
You do not need a business degree, or even business experience to run a franchise. When you buy into a franchise, the franchisee typically provides the training you need to operate their business model.
Franchises come with an established reputation, so you will naturally have a customer base on a regionalnational level.
Franchises have a higher rate of success than start-up businesses - people go with what they know.
It's often easier securing funding for franchises.
It may cost less to buy a franchise than to start your own business of the same kind.
Cons of Investing in a Franchise
There is a lack of stability since franchisors do not have to renew an agreement with you at the end of the franchise terms.
When you buy into a franchise, you enter into a formal legal agreement with your franchisor. Terms tend to benefit them more than they benefit you.
There is little to no room for creativity with the business because of the franchise agreement.
If other stores in the franchise underperform, it may also affect your business.
You will always share your profits with the franchise.
Starting Your Own Business
If you're considering starting your own business, you will want to look at all of your options. If you start your own business, you are starting from scratch and need to consider every aspect of the business - however, there is beautiful freedom and feeling of success when starting your own business.
Pros of Starting Your Own Business
You do not need to share your profits, and you could make much more money in the long run.
You are 100% your boss, which means you need to make all of the decisions about your business.
There's a level of security knowing that you cannot be fired or let go at the end of a contract.
You work in a field you are naturally interested in, which means you are more productive and happy.
You most likely will have more flexibility with your schedule because you do not need to abide by an employer's rules or a franchise's contractual agreement.
Cons of Starting Your Own Business
By investing in your own business, you are taking a huge financial risk because you do not have the name of a franchise on your side and the money you invest is non-refundable.
You have to start from scratch with everything - policies, procedures, workflows, hiring, day to day tasks job descriptions, etc. You become the sole owner of these tasks until you can hire others to help.
You are guaranteed to not have much time to yourself or to dedicate to social life. It is also more than likely that you will not have time to further your education if that is something you were considering.
You will experience stress unlike any other because all responsibilities ultimately fall on you.
Other Considerations
One other thing to consider is if the opportunity arises, buying an existing business. The beauty of an existing business that is up for sale is that there is a track record of the business's history. You can see over time the financial history, as well as lists of existing customers, employees, and offerings. Also, having everything outlined can make it easier to secure a loan.
If you decide to purchase an existing business, there's a great chance you will have a great return on your investment; it could mean immediate cashflow.
Do You Want to Look at Your Financing Options?
If you find yourself needing to find funding for your business, First Union Lending is here to help.
We have nine different business loan types to choose from. This means that we're uniquely qualified to help you find the perfect loan to open your small business.
Applying for a business loan doesn't affect your credit. Better yet, your business loan may be approved as soon as the same day.
Get started with the process now by learning more about our business loans.