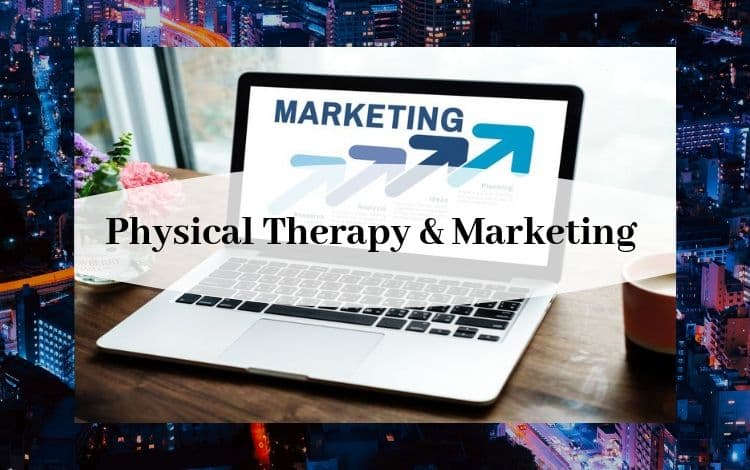 The 5 Best Ways to Market a Physical Therapy Practice
Whether you are starting a new physical therapy clinic or growing an existing practice, marketing is crucial. As your existing clients recover from injuries, you need to bring in new clients to replace them.
There are tons of different marketing options out there, and they aren't all effective for marketing a physical therapy clinic. Let's discuss the 5 best ways to market your physical therapy practice.
#1 – Make a Marketing Plan and Budget
Marketing can involve lots of time and money, so you need a plan and a budget for the best results. How much money should you invest in marketing your physical therapy practice?
Small to medium businesses should invest 7% to 8% of their revenue on marketing. If that seems like a lot, there are things you can do yourself. However, the cheaper the marketing, the more of your time it is likely to take.
Remember that time is money, too. It may make more sense to pay somebody for some marketing tasks so you can focus on other things.
When making a marketing plan, you must consider your ideal clients and how they're likely to hear from you. Young adults recovering from sports injuries and older adults recovering from a fall need different marketing plans, for example. Keep your ideal client in mind when deciding where to focus your marketing efforts.
#2 – Encourage Your Clients to Leave Positive Reviews
These days, many people check online reviews before making any significant decisions. The more reviews you have, especially positive reviews, the more likely it is people will choose your PT clinic.
While it's good to encourage leaving reviews everywhere, Google Maps reviews are crucial and underrated. Many people start their search by seeing what's near them. That's why good reviews on Google Maps can be the first and best chance to land new clients.
How do you encourage your current and past clients to leave reviews? Many times, it's as simple as asking. Print cards with instructions for leaving a Google Maps Review. Then, encourage your employees to ask each patient for a review.
You can also encourage clients to leave reviews with raffles or discounts.
#3 – Host Free Workshops at Your Clinic
What better way to get people through your doors than with free useful information? Set a date and time, print a bunch of flyers, and prepare a useful presentation. If people feel like they got value from you for free, they're more likely to trust you with their money.
What sort of workshops could you offer? Here are a few examples:
Neck and shoulder pain
Sciatica and lower back pain
Knee or hip pain
Improving your balance
Moving better after 65
Be prepared with business cards and a one-page handout to give to attendees. Encourage them to schedule an initial consultation. Also, try to get their email address so you can follow up with more marketing.
#4 – Focus on Your Website and Social Media
A good-looking website and a strong social media presence are both critical for building and maintaining your PT clinic. You can't neglect either.
While you can build a website or manage social media yourself, it may be worth the cost to hire professionals. This is especially the case with social media marketing.
Do you have time to be on several different social media platforms every day? Do you have time to interact with people on social media instead of just posting content? It may be worth hiring a part-time professional to boost your social media engagement.
Your website should provide as much useful information as possible, and online booking is a nice added benefit. A well-written blog can help drive traffic to your website.
#5 – Stay in Touch with Previous Patients
Physical therapy's primary goal is to help people recover and not need to come back. However, staying in contact is a good way to ensure they will return to you or refer new patients.
Getting every patient's email address gives you an advantage. With as little as a monthly email, you can stay fresh in the mind of your past patients. This can pay off when they remember you and refer people or come back if they need to.
The trick to email marketing is to maintain a level of contact without coming across as spam. A monthly email and occasional updates about events are enough.
Financing Your Marketing
While some types of marketing require little more than time, other forms of marketing can be quite expensive. Investing in your marketing is a crucial way to build your business.
If you need financing to boost your marketing plan, First Union Lending has 9 different loan types to choose from. Call 863-825-5626 or click here to talk to one of our funding specialists and find the right loan. The only mistake bigger than not investing in marketing would be to use the wrong loan.