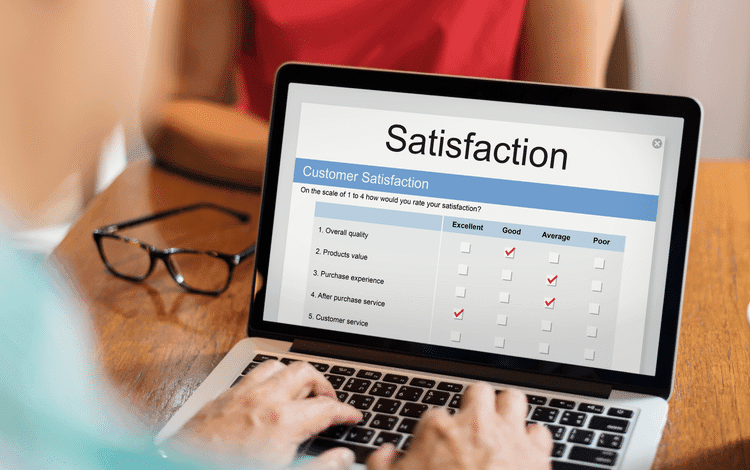 How to Measure Customer Satisfaction
To grow, you need to know what your customers love and hate about your company. More specifically than that, you need to know how many customers are happy, sad, or neutral about your business. But how can you measure something as intangible as customer satisfaction?
Measuring customer satisfaction is not as straightforward as getting other types of data. However, many different tools exist that you can use to measure customer satisfaction. Here are our suggestions on the best ways to measure customer satisfaction.
Make a Plan
Before going to the trouble of measuring customer satisfaction, you need a plan. Otherwise, all your research is likely to go to waste. Here's what you need to do.
Create a Goal
Exactly what type of information do you want to discover? How will you react to the information? How much information do you want?
Without a clear goal, you won't have a good plan for collecting, analyzing, or using the data. What good is measuring customer satisfaction if you make a mess of the results or fail to act on them?
What Will You Do with Gathered Information?
There is no point in measuring your customer satisfaction levels if you don't plan on doing anything with the information. What can you do to improve the things that lead to the most common complaints? How can you use the information to improve your overall business and customer experience?
The way you plan on using the gathered information may impact which methods you use to determine customer satisfaction. You may not have specific plans until you get the information. However, you should have a general plan in place on how to approach the data when you get it.
Decide When and How to Measure Customer Satisfaction
There are many different ways to measure customer satisfaction. Additionally, there are many times to gather that data. The type of business you have may have a big influence on when you can gather this data.
If your customers are using your app, you can send them a survey or ask a simple question through the app. If you have a brick and mortar shop, you can put a link to a survey at the bottom of every receipt. If you do business online, you can send emails to get customer feedback.
Ideally, you want to get feedback from your customers as close as possible to when they make their purchase.
The tabletop payment methods in restaurants have a great advantage here. Customers are presented with a short survey to take after they pay and before they leave. Their experience is still fresh in their mind, so you'll get the most honest answers possible.
Gather Information
Now that you've decided when to gather information and what you'll do with it, you need to decide how.
While surveys are a common way to measure customer satisfaction, they aren't the only method. They may not even be the most accurate method. Here are several common ways to measure customer satisfaction.
Customer Satisfaction Score (CSAT)
The Customer Satisfaction Score (CSAT) uses a scale to measure a customer's experience. The scale can be anything, but it's often 1-3, 1-5, or 1-10, where 1 is "terrible," and the highest number is 'excellent." A common question might be: "Please rate the quality of service you got today."
CSAT is the most common way to determine customer satisfaction. To figure out your average rating, you add up all the scores and divide by the number of participants.
As common as the CSAT is, it doesn't mean much if it's the only metric you use.
Customer Effort Score (CES)
It turns out that customers don't want the BEST possible experience – they want the EASIEST. The Customer Effort Score (CES) shows how hard people thought it was to get what they needed.
This is an especially important metric when customers have problems. You want to offer them the easiest solution possible.
A common question to get a CES would be "How easy was it to solve your problem?" Answers range from "very difficult" to "very easy."
Net Promoter Score (NPS)
The Net Promoter Score (NPS) measures how likely customers are to refer your business to others. You can use a scale of 1-10 to ask how likely people are to refer you to their friends and family.
It's good to have people who are happy about your business. It's better to have people who like your company enough to recommend it to others.
Check Social Media
These days, you can't ignore social media when you're trying to measure customer satisfaction. Now, people aren't just sharing their amazing or terrible experiences with a handful of people. They can share their experience with hundreds, thousands, or even millions of people. Luckily, you don't need to pay somebody to spend all day trolling social media looking for mentions of your business.
These are some tools that you can use to learn what people are saying about your business:
Socialmention analyzes how often your brand is mentioned on the internet. Among other things, it will show you the ratio of positive to negative mentions.
Google Alerts let you know when your brand is popping up in a prominent position on Google.
Mention is similar to Google Alerts, but it works across the entire web, including social media.
Need a Loan to Improve Your Customer Satisfaction?
Are most of your customers complaining about something that would be simple to fix, if only you had the money? Getting a loan to make improvements could be just the right way to help improve your customer satisfaction.
First Union Lending can help. They offer 9 different types of loans to fit each situation. A lending specialist can help you find the right loan to improve your customer satisfaction.
Don't worry about harming your credit – applying for a loan with First Union won't affect it. Also, you could get money as soon as today.
There's no risk in learning more. To talk to a financial specialist, call 863-825-5626 or click here. The help you need to satisfy your customers could be closer than you think.