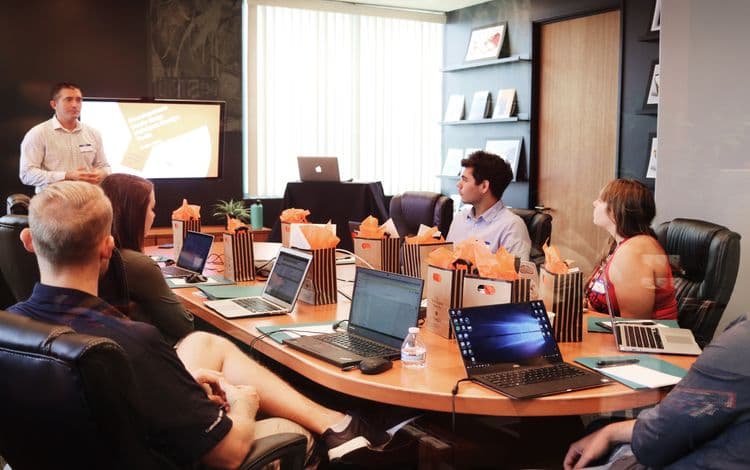 Elements of the Perfect Pitch Deck for Your Business
Most entrepreneurs are probably familiar with the concept of a pitch deck. This is essentially a PowerPoint presentation meant to be delivered to potential investors. Generally consisting of anywhere from 15 to 20 slides, the pitch deck is the introduction to your company: what you do, who you are and what your unique angle is. It is a very important thing to have in the early phases of your company if you do intend to approach investors. What makes for a solid and winning pitch deck…Keep reading to find out!
Some Key Do's and Don'ts
Do specify why this market? What about the market you're entering makes it hot? Why is it a good opportunity to enter that market right now?
Use a fair amount of graphics and images. People don't just want to sit there and read text box after text box—that can get tedious after a while.
Remember to send the pitch deck in PDF form to the investor before actually presenting it. This will give them a chance to formulate any questions ahead of time.
Always tell a story. The best way to get your companyyour brand to stick in someone's mind is to offer a compelling narrative.
Be consistent with overall color, fonts, sizes, and header styles throughout your pitch deck.
Don't make it overly long. 15-20 slides max seems to be the golden number.
Again, avoid slides that are too wordy and lack colorful images.
Don't attempt to cover absolutely every aspect of your company and its position. It is a presentation after all so you can do some talking and thus touches upon any additional points needed.
Avoid any jargony language. Keep it simple and straight forward whenever possible.
As you set about creating this pivotal cornerstone of your fundraising efforts, take some time to review relevant examples in your field. They are easy to find online and can offer some truly helpful tips in terms of formatting your investor pitch deck.
Some Key Slides to Include
Company Overview
This will summarize in a few bullet points what the business idea is all about, what pain points it addresses, and what/who the management team consists of. The purpose of this slide is not the only introduction, but also to inspire them to want to see more.
Mission/Vision
If you don't already have mission and vision statements created, now is the time to develop solid ones. This has to be a part of your PPT as the investors want to know what your goals are and what your founding mission is. In essence, this will represent your elevator pitch.
The Team
Investors want to know about the people involved with any company they plan to review. You will want to include photos and titles and well as prior employment and then relevant experience. Almost like mini resumes, this information regarding your core team is extremely important to include with your pitch deck presentation.
The Problem
You got started in this business for a reason; odds are, it was to solve some sort of pressing problem that consumers have…what is that problem? Also, define how big of a problem it is, what group you're targeting that experiences said problem, and why it needs to be addressed at all.
The Solution
So you've outlined the problem, now naturally you're going to do the same for the solution. Beyond merely saying how you're going to solve the problem, you also want to elucidate how you're going to do so better than solutions that are currently available.
The Product
The company will offer some sort of product or service to address the problem outlined in a previous slide. This is where you go into some detail about the productservice. What are the key features of your offering? Why should potential users care in the first place? How do you differentiate yourself? Be careful not to overlap this slide with the solution slide. And also, definitely include well-done visuals and graphics here.
Market Opportunity
Investors want a sustainable market, one with the potential for growth. In this slide, you want to be sure and define the market and the potential for profit given the dollar market size.
Customers
Do you already have some customers? This is a good way to prove your business's viability to investors. Provide info on those customers and potentially some brief testimonials.
The Competition
Knowing who your competitors are is critical for any business, and the investors want to see that you've done your homework in this regard. Not only should the slide outline your key competition, but also show why/how you differ and why this matters in the market. Also, be prepared to answer some questions on this front—the investors want to get a feel for how well you understand your market.
Business Model
The business model is a very important slide to have in your PPT. This should cover items such as: how will you make money, what type of pricing model will you have, and what are the primary channels through which you plan to acquire your customers.
Marketing
You can have the best product in the world, but if there isn't a sound marketing plan behind it, no one will know about you. Your marketing slide can cover such topics as the key channels you will be using to build your brand, customer acquisition costs, and mention any early press you've gotten.
Financials Slide
Another must-have slide, the financial picture is necessary for any presentation of this nature. They want to know where you currently stand and then also, they want to know about your projections, generally 3-5 years. You might also include burn rate, key assumptions, EBITDA, and total revenue/expenses.
First Union Lending is here to help. If you need additional capital for your company, whatever phase you might be in, we likely have a loan program to fit your needs. Call today!