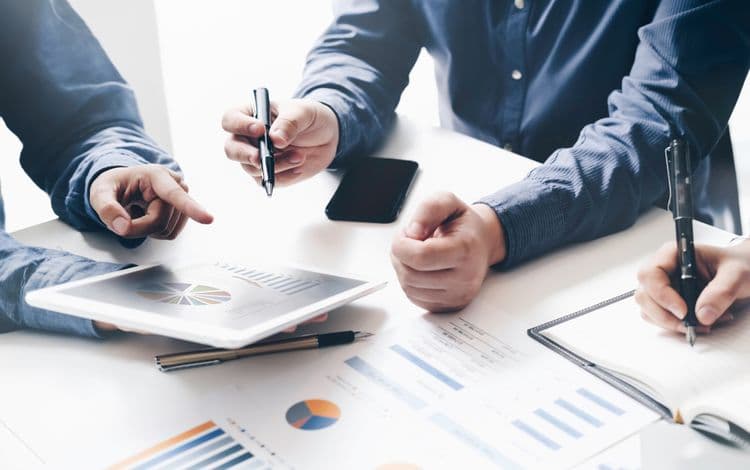 What are Financial Advisors?
A financial advisor has several roles. One of the main things that financial advisors do for clients is to help them plan for the future. In terms of retirement, kids' college tuition, a home purchase, you name it, financial advisors will walk their clients through the best investment strategies, the types of accounts they should have, and the investment timelines most relevant to their goals. Essentially, anything that centers on a client's financial health an advisor will address and consequently work with that client to have a solid game plan moving forward. In this article, we look closer at the role of financial advisors and whether or not working with such an advisor is a smart move for you.
In large part, you could think of financial advisors as educators in that they teach their clients about making smart investment choices as well as showing them how to plan appropriately for their future financial needs. Offering support on everything from tax issues to investment opportunities, financial advisors are professionals who are trained and certified to help clients navigate their financial well-being. In the first meeting with a financial advisor, you might be asked to fill out a questionnaire detailing your current situation as well as ultimate economic goals. This will be a springboard for your financial advisor to get you started on a sound path.
A questionnaire of this nature may ask you about things such as your overall risk tolerance when it comes to investing, your timelines; it will likely ask you to list assets and liabilities that you currently have along with any relevant income sources such as retirement funds and pension plans. In addition to immediate and long-term finance-based questions, it might also have questions regarding tax status, insurances, and estate planning. Be prepared to answer these questions in detail and as honestly as you can to give the financial advisor the information they need to help you start planning appropriately.
Your Financial Plan
Taking the data from the questionnaire, financial advisors will then develop a financial plan for their clients. Among the components of this plan will be an assessment of where you currently stand as well as a summary of your financial goals moving forward. In terms of the overall analysis, this plan will detail your risk tolerance, your family situation, and how it pertains to estate planning, and any long term concerns you may have.
A major part of crafting this financial plan is a focus on retirement goals. Based on your income and asset situation, a financial advisor will look at every possible angle and create a best and worst-case scenario for your retirement. In other words, is there a chance you'll outlive your money? If so, then there may need to be some adjustments moving forward to avoid this. They will also look at partnerships and marriages as far as accounting for survivorship situations.
Putting a Financial Plan into Action
Beyond coming up with a plan for you and your future, financial advisors are also tasked with putting this plan into action since they help you to manage your portfolio. One of the primary reasons people work with financial advisors is for investment advice. To this end, the advisor will determine, based upon your ideal timeline and risk tolerance, how to best allocate your assets. Any asset allocation is going to be dictated by several factors including age and financial goals.
As the client, you want to understand exactly why your financial advisor is making the money moves that they are on your behalf. Why are they recommending one investment strategy over another? Why a specific asset class? As this is your money, it is absolutely fine to ask any of the questions that you may have as this will help you gain a better handle on your financial future.
Should You Hire a Financial Advisor?
You don't have to be nearing retirement to work with a financial advisor. Any age is a good time to consider enlisting some help when it comes to your overall financial health. If you are uncertain as to where your money should be, or how and when to invest, or even about the proper way to go about estate planning, then it might be worth hiring a financial advisor for guidance in these areas. Below are a few reasons why it may be time for you to research financial advisors:
You're unsure of how to invest your savings.
If all of your savings is currently in a low interest bearing standard savings account, you probably could use the advice of a financial advisor. If you're looking to make your money grow, a savings account is not the most prudent way to achieve this. Looking toward your retirement, you want to maximize the return on your investment.
You seem to be losing money.
Certainly, during market downturns, many people are apt to lose money. However, if you find that you are losing money regularly even when the market is up, it is time to get some investing help and thus protect your finances.
You don't have an estate plan.
Estate planning is a large part of a financial advisor's job. How will your assets be distributed once you pass? Is your family protected? A financial advisor can help ensure that you make the smartest decisions regarding your estate, such that will help provide for your loved ones for years to come.
First Union Lending is here to help! We offer short term loans, SBA loans, and merchant cash advances among other financing solutions to help your small business thrive and succeed. We are invested in our clients' welfare and want to see them make it through this challenging time. Some clients will receive the money in their accounts in two business days—we do work that quickly. So if you need additional capital for an expansion project, marketing campaign, or simply weather the storm, we have a solution for you. Call today!