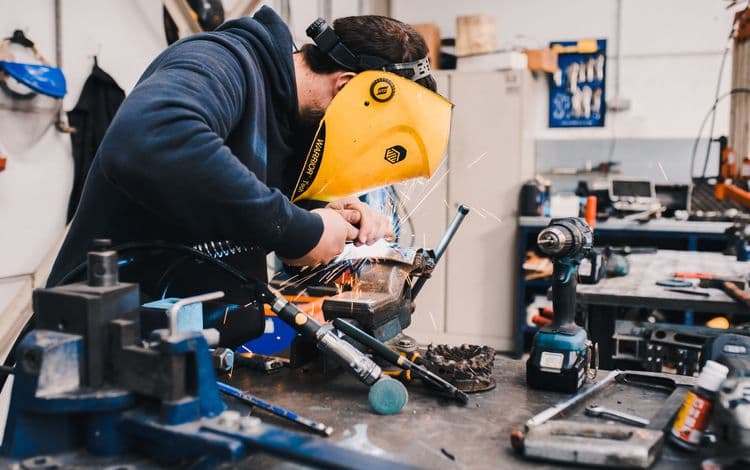 Finding Manufacturing and Factory Loans
Manufacturing represents over 2 trillion dollars of the US economy, making it one of the most important facets of the economy as a whole. Manufacturing accounts for 12% of the GDP. The number of people employed in this sector is among the highest in the country. Growth in manufacturing, even given the current climate, is only expected to rise exponentially in the coming years. That said, as manufacturing companies continue to expand, many business owners are realizing a need for larger factories and improved equipment. Getting a factory loan can seem a daunting task. However, there are several options for manufacturing companies looking to procure factory loans. In this article, we examine a few of those options as far as getting the funding necessary for a factory expansion and/or factory purchase through factory loans.
Understanding Manufacturing
Manufacturing is the production of finished goods from raw materials. Using equipment, human labor, and tools, items are manufactured and thereby become merchandise. To manufacture goods on any sort of broad-scale, a factory is generally needed. Manufacturers will often find themselves at some point during the life of their company at a place where they need additional financing, and this could be for a variety of reasons. From equipment purchasing to looking for additional working capital to the need for a factory loan, commercial funding is going to be important in the overall life cycle of a manufacturing company.
Manufacturing Loan Options: Factory Loans
As with most types of business funding, there are several financing options for a manufacturing company to explore, particularly when it comes to purchasing a factory and consequently getting a factory loan. Everything from SBA backed loans to working with a private investor to asset-based financing, are potential factory loan channels a business owner might look into. Below are a few of the more common types of loan options available to manufacturing firms.
Traditional Bank Loans
If you are contemplating purchasing a new factory or engaging in a factory expansion project, a traditional bank loan could be one avenue you explore in trying to get a factory loan. With commercial bank loans, the terms and rates tend to be more attractive than with some of the alternative means of getting the cash needed. There are term loans as well as commercial real estate loans that could be used as far as purchasing/expanding/upgrading a factory. The issue here though is that bank loans can be harder to get. Their criteria are among the most stringent and so things such as high credit score, ample yearly revenue, and a fair amount of time in business are going to be necessary to gain approval for a factory loan. Not to mention, they often will require a relatively large amount of collateral.
SBA Manufacturing Loans
The SBA does have loans and programs available for manufacturing companies. For those who were turned down for a traditional bank loan, this may be a logical next step when it comes to getting factory loans. While the SBA guarantees a percentage of the loan, they do not originate the commercial loan itself. You would work with a qualified lender to get the factory loan and then because the SBA guarantees a portion of it, even if other components of your application are not that attractive, you have a better chance at approval. If for some reason you should default on the factory loan, the lender could recover a big portion of their losses via the SBA. This means there is less risk associated with your loan.
Alternative Loans
In large part, because it can be so difficult to get a business loan through a traditional bank, more and more manufacturers are turning to alternative lenders for equipment and factory loans. Alternative and online lenders often have more flexible criteria for approval. In other words, a credit score is not necessarily a means for rejection. They look at the entire picture and base decisions on several factors beyond simply the more traditional benchmarks.
That said, depending on the alternative/online lender, rates could be a bit higher and terms can also be shorter than you would see with a bank or through an SBA loan. Do keep in mind that with alternative lending, the process is much more streamlined, with clients receiving the funds for a factory loan in a matter of a couple of days contingent upon their application packet. Alternative lenders also have a bit more flexibility as far as how they get their clients the funds needed for their manufacturing company.
Equipment Loans
Equipment is a fairly significant part of factory operations. Often manufacturing companies will need to update and/or integrate new equipment into their factory. This is where it might make sense to go for an equipment loan. With an equipment loan very often the lending company will purchase the needed equipment and then lease it back to the manufacturer. This makes for an effective and affordable way to procure new equipment while keeping out of pocket costs down. At the end of the lease period, the manufacturing company usually will have the option to buy the equipment in question—often for as little as a dollar.
Invoice Financing
Invoice financing is also often called invoice factoring. A company will sell its unpaid invoices to a factoring company in exchange for a lump-sum advance. The factoring company will keep a percentage of the invoices that are paid. For each week the invoices remain unpaid, the selling company will be charged a fee—often around 1% of the total invoice amount. When the factoring company collects all the money, the balance minus fees is remitted to the selling company.
First Union Lending is here to help. We offer manufacturing and factory loans, among other business loan products. Our terms are flexible, and our processing time is a fact—some clients receive the cash in their accounts in as little as two days. Call today and let's get started!