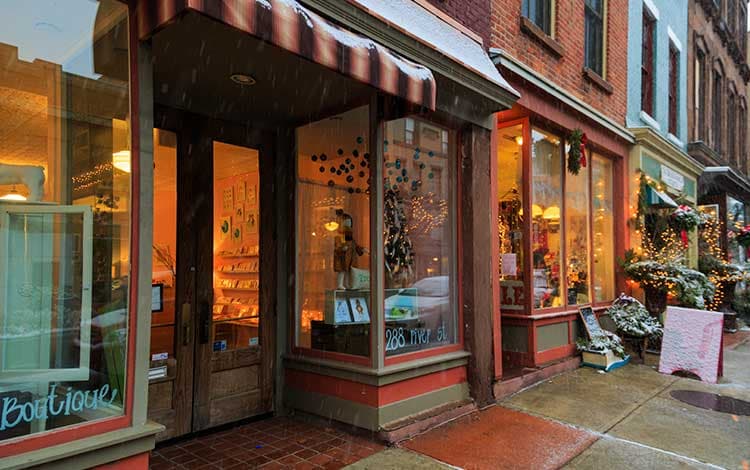 Businesses to Consider Starting in a Small Town
The location has a lot to do with the success and/or consequent failure of a new business. If you aren't mindful of where you are and what types of gaps/niches might need to be filled, then you may very well be venturing into territory that is oversaturated—which translates to the early demise of your startup.
Many seem to think 'big city' when considering starting a business, and while yes, there are benefits to this, overlooking a small town for your new enterprise might be a mistake. Small towns have a lot to offer, not to mention, the quality of life, especially if you want to raise a family could very well be a huge draw. The important thing is not to disqualify a small town out of hand—do some research, see what might potentially be the best region for your endeavor.
Check into the Community
Every small town is, of course, going to be different. This means that you will have to do some legwork in terms of finding service gaps, seeing what needs are not being met and understanding the overall business climate of that particular neighborhood.
First off, know what businesses currently exist in a small town. Loyalty is often important in such enclaves and so if there already is a trusted proprietor in your particular niche, then perhaps this town may not be the best option. Or, if you are intent on a specific town, you might see what services the town is lacking and then approach it from that end.
In researching potential competitors, you want to gather as many facts as possible, to include: their pricing structure, any specialty services/items, their reputation, and how they relate to their customer base.
How Do You Get Started?
This, of course, will depend on the nature of your particular business. Business type determines what education and training you and prospective employees need, any permits or licenses, as well as any special zoning requirements. Beyond that, there are skills fundamental to pretty much all small business, regardless of location type; things like communication skills, dependability, the capacity to manage your time effectively, and a collaborative attitude. Among others of course.
Then there is the question of funding. With startups, traditional funding solutions may not be available, and so often new companies will go the route of alternative lenders. Capital is going to be key.
Small Towns Businesses: Some to Consider
Based on current trends and marketplace needs, these are just a few business types that you might consider starting in a smaller town.
Car Repair Shop
The trend does seem to be that those living in smaller towns tend to require the services of car repair shops more frequently than do those based in the city. In bigger cities, many use public transportation, walk or bike. Not as many people have cars. Whereas in small towns, a car is pretty much a necessity. And most households tend to have more than one. As accidents and breakdowns are unfortunate facts of life, there is always a need for a repair shop.
Home/Office Cleaning
Did you know that the cleaning industry within the next five years is projected to reach $75 million? This may be a tremendous opportunity for those looking to start a business. Operating costs are relatively low, as human power is the key force here. You can offer both residential and office cleaning services. And if you can't afford staff—this is a business in which it is realistic to make a living on your own.
Pet Grooming
People love their pets. And more and more, Americans are spending big money on them. In a small town, pet groomers can sometimes charge a premium, depending on how much competition there might be. To become a groomer you generally need to go for classes and certification. Startup costs aren't astronomical, and you can do it on your own.
Liquor Store
Nearly 20% of beverages purchased take place at a liquor store, so certainly you can see how potentially lucrative a small town liquor store could be. There will be licensing requirements involved and depending on the state, certain restrictions that you'll want to be aware of. But ultimately, this is a business that might certainly become profitable in a short amount of time.
Hairdresser
After attending a hairdressing course and receiving your licensing, you can easily start your own hairdressing business in a small town. In fact, many hairdressers will begin by working out of their homes thus cutting down significantly on overhead. And especially if you are staying in your own small town, it will be easier to gain a client base. With a hair salon, there is also the possibility of offering other services such as waxing, makeup, and manicures.
Laundromat
Many small towns desperately need a laundromat. This is one area that is currently being overlooked which means there's certainly room for those who are considering opening a laundromat in a small town. Yearly, laundry services businesses generate nearly 5 billion in revenue—this is a staggering amount. You definitely want to check and see if laundromats currently exist in your designated small town, as too much competition could hurt you and thus cause your laundromat to fold.
Restaurant
Everyone likes to eat! In smaller towns, you're definitely not going to face the same sort of competition that you would in a big city. Be careful though, a town can only sustain so many restaurants—but that is not to say that they aren't open to a having a variety of restaurant types. From pizza places to gourmet fare, see what's missing and then seek to fill a gap.
Determining Your Path
These, as mentioned, are just a few of the small town businesses that you might look into. Ultimately, the list is endless—as is the possibility of making a very good living, depending on how well you do your homework. Consider yourself as well. You, after all, are going to be the main cog in the engine—what are your skills, your best qualities, your educational aptitude saying…Make it work for you. Here at First Union, we love helping small businesses succeed. We offer a variety of loan products such as lines of credit and short term loans that can benefit businesses. Call today!