Small Business Loans in Houston, Texas
It's no surprise why Houston is considered a thriving city within Texas. Houston is the fourth most populous city in the nation and the largest city in the Southern U.S. and Texas. It's considered the most ethnically diverse metropolitan area with over 145 spoken languages. A diverse city is a great city - there are so many professional, entrepreneurs, and individual residents within this community that helps small businesses like yours, maintain success.
As Houston continues to grow to become the third-largest US city, there are many things to do to keep up with the hustle and bustle. From the NASA Space Center, the Museum of Fine Arts, the Minute Maid Park, and the Galleria, Houston has no shortage of places to visit. These tourist spots can benefit your small business thanks to flocked tourists, business professionals, and potential new clients who visit this city all year round.
Small businesses are the backbone of this great nation, and maintaining business success is what we strive for. Owning and operating a business in Houston is very straightforward. The city also provides numerous resources to help you along every step.
If you're a business in Houston, you understand the need to maintain a healthy business outlook and upkeep your environment to keep in line with the diverse, local community. Any necessary business venture you add to your belt increases the opportunity for your business to create a lasting impact on your community.
Where to Find Small Business Funding in Houston, Texas
Those from Houston know that things are always bigger in Texas. And why not? Houston was recently ranked among the top twenty percent regarding the best US cities in which to live. The city is home to some of the most prominent company headquarters in the country. With almost 7 million residents, Houston's economy is booming. One need only visit districts such as the Greater East End to see a ton of development and be inspired by how welcoming the region is to new businesses.
Our loan agency serving Houston, Texas, would love to help with whatever project you have in mind. Working capital is essential so that you can keep operations running seamlessly. First Union Lending offers numerous programs designed specifically for Houston small business owners. Let's discuss your options or fill out an online application, and we will reach out to you!
See Your Loan Options
Only U.S.-Based Businesses are Eligible.
Top Five Industries in Houston
Houston has a mix of industries that drive its economy forward. Five primary industries can capture hearts in this manufacturing-rich city. You can receive financial assistance through a business loan if relevant to your business.
Energy

Houston is known worldwide for its energy production industry, particularly oil and natural gas. Known as the Energy Capital of the World, Houston has access to every energy industry segment, such as exploration, production, transmission, marketing, supply, and technology. It also employs nearly a third of the nation's jobs in oils and gas extraction. It's also growing its technological advancements to include renewable energy sources like wind and solar.

Technology

Since the pandemic, it's been reported that Houston has seen a healthy influx of tech workers. Houston is no stranger to world-changing innovation in the energy, life science, and aerospace industries. The fabric of Houston's economy has driven new companies in science and engineering to thrive in the region. Houston's access to a pool of digital technology professionals, customers, and resources is no surprise why this industry has grown so much in this state. Thanks to these factors, Houston falls just behind Miami as one of the top cities with the fastest-growing tech hub.

Manufacturing

Houston is considered a substantial industrial base with access to global markets thanks to its location. Texas's world-class infrastructure, two international airports, four deep water seaports, rails, and highways all aid companies minimize their transportation and distribution costs. Advanced manufacturing is a booming industry in Houston, with over 230,000 industrial workers employed in fabricated metal, machinery, and chemical manufacturing. There are more than 6,400 manufacturers in the region, producing more than $80 billion annually.

Retail

In today's post-COVID economy, Houston appears far removed from the pandemic setbacks. With the build-up of supply escalation and the growing market recovery rate. According to a research study from Marcus & Millichap, Houston's retail industry is quite impressive as it can ramp up while other cities in the United States have been struggling to get ahead.

The Galleria, the Memorial City Mall, the Willowbrook Mall, and the smaller retail plaza show that Houston has a variety of successful retail businesses to compete with. But don't let that worry you. Stay ahead of the competition with a business loan that can put you ahead of the race.

Construction

Did you know Houston was ranked as one of the top cities for construction workers? In the past few years, the real estate market increased the demand for construction workers at an all-time high, even during a labor shortage. The increased demand for residential communities, shopping plazas, and professional office locations helps develop a higher demand for construction workers and reliable contractor companies to satisfy needs.
Grow your Houston, Texas company with a business loan.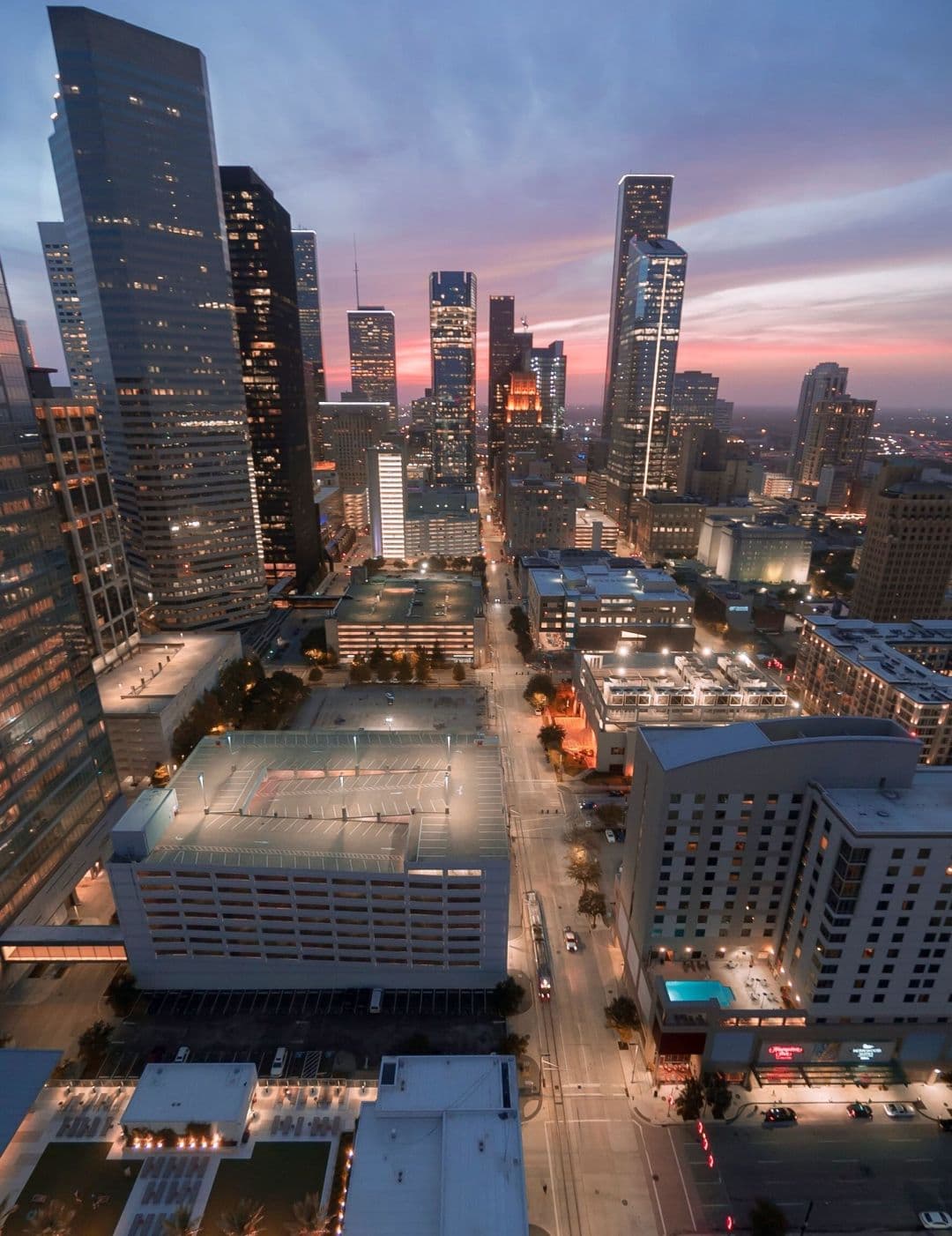 So what can you expect to own and operate a Houston, TX-based business? For one, the city has several top-notch schools: the University of Houston and Rice University both supply the area with ultra-talented young professionals.
This means that your Houston-based business has plenty of recruitment opportunities. The real estate market in Houston is also one good thing about living in this Texas city. Especially for those located in the Heights or Garden Oaks—property values are increasing and the neighborhoods, accordingly becoming highly sought after. Call for a free consultation!
This is the time to make a big move as far as advancing your Houston-based small business. You might consider buying a bigger office space. You may also want to hire more employees to keep up with your growing client list. How about updating your office technology?
Our loan agency serving Houston, Texas, would love to help with whatever project you have in mind. Working capital is essential so that you can keep operations running seamlessly. First Union Lending offers numerous programs designed specifically for Houston small business owners. Let's discuss your options or fill out an online application, and we will reach out to you!
Uses of a Small Business Loan in Houston Texas
Businesses often utilize business loans to cover equipment, real estate costs, or working capital paid off between one and 25 years. Business loans can also purchase fixed assets or help maintain day-to-day operations. Most businesses use small business loans for the following:
Boost Your Cash Flow

Get small business financing to free up cash for immediate reinvestment in your company. You'll have more flexibility in financial decisions and be able to prioritize expansion rather than worrying about day-to-day expenses.

Buy New Equipment

It's essential to find the most powerful and modern tools to provide the best possible service to your clients. Buying equipment can add up quickly. We can work with you to find the best financing options for your small business.

Refurbish Your Premises

Maintaining or upgrading your company's facilities is an investment, especially if you're still in the early stages of growth. A small business loan can cover some or all of the costs involved in creating a clean and modern working environment to succeed and attract customers.

Hire Extra Staff

If you need to add top talent to your team but don't have the cash to do it, an option like a small business loan with competitive interest rates could be the way to get funding.

Cover One-Off Costs

A small business loan or line of credit can help you take advantage of any opportunities that come your way.

And Grow Your Business

We've helped thousands of established businesses in the United States grow, create new jobs, and stimulate economic growth in their local communities with the best trim business financing options for their needs.
First Union Lending is Here to Help Your Business Succeed
If you are in the market for a business loan, you may have already tried a Houston-based bank. Our guess is they said that your FICO was too low, you didn't have enough years in business, or you lacked enough collateral for a loan. They probably kept you waiting weeks (if not months) only to return with a disheartening no. Our commercial lending process is nothing like this—not even close.
First off, you fill out an online application. You will submit a few documents at that point—an advisor will help you through them from start to finish. Decisions generally come within a few hours. And as for the funds themselves, most clients see the money in their business account on the same day. We believe in being fast and flexible. This is also why we offer several loan options. From short-term loans, merchant cash advances, lines of credit, SBA loans, long-term loans, commercial property loans, debt consolidation, bridge loans, credit card processing, health care provider loans, invoice factoring to equipment financing, it's all about finding what best suits your Houston business.
We have had the opportunity to work with many in the Houston region. We've helped salon owners, restaurants, manufacturers, dental practices, and veterinarians (to name a few) get the cash they need quickly. It's about taking the time to get to know every client with whom we partner. We want to get your backstory; we want to know your plans; and we want to see how you fit into the fabric of the Houston, TX, business landscape. With loan products ranging from 5k to 10 million, we have ample resources at our disposal right now to help you get funded.
So this is where you ask yourself—what could I do with a business loan from First Union Lending? Speak to a specialist! The sky is the limit, as you can grow your business and expand your portfolio with our loan products. We've even helped companies buy out competitors. Let's make a plan for the future of your Houston company.