Did you know that a recent ranking placed Des Moines as the fifth-best city in the country in which to live and work—this is terrific news for small business owners who happen to call Des Moines home. The economic outlook is tremendous in this Iowa city.
See Your Loan Options
Only U.S.-Based Businesses are Eligible.
Consider the following, the cost of doing business in Des Moines, IA is fifteen percent lower than the national average. This is huge for any entrepreneur—lower cost of business means the potential for a bigger bottom line. And your working capital goes a lot further!
Whether you're located in East Village or Sherman Hill, you're poised to take advantage of all this up and coming Iowa city has to offer. From an art and culture perspective, Des Moines is known for its symphony, for the well attended Des Moines Art Festival, as well as the ever electric Des Moines Community Playhouse. The presence of both Drake and Des Moines Universities also keeps the number of young professionals in the city high. So the potential talent pool for your Des Moines, IA business is vast. Find out what you qualify for!
What can you as a small business owner in this thriving Midwest city do to stand out and make a name for yourself? For one, you could look into a more robust marketing campaign, targeting key Des Moines demographics.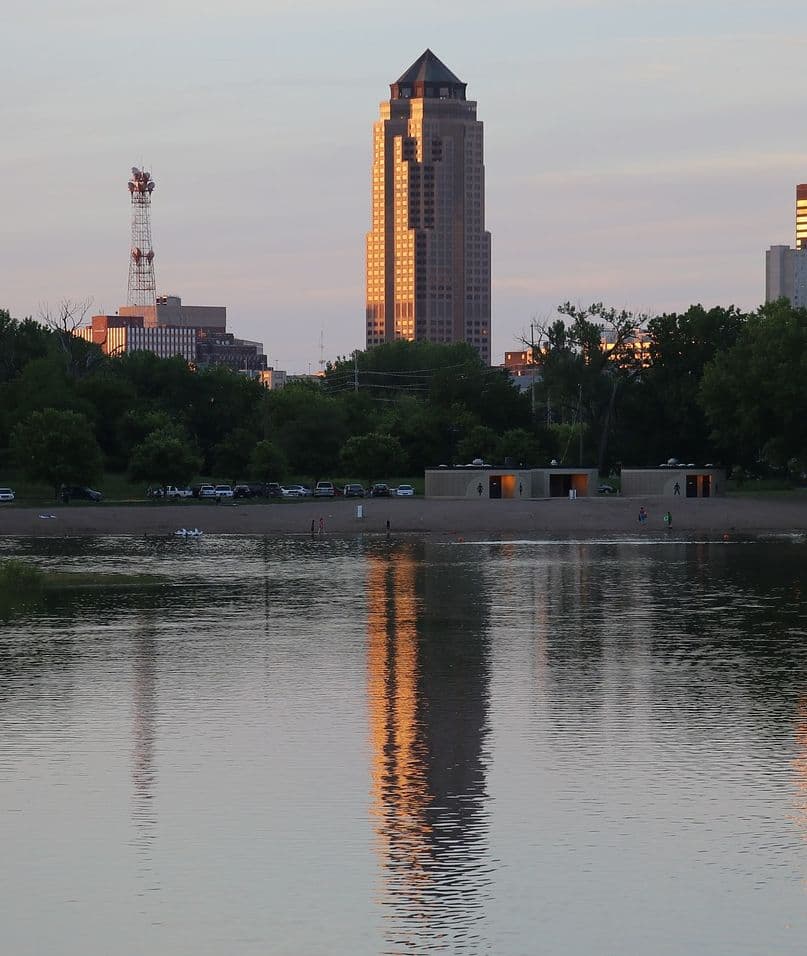 You might also consider a bigger office space, more centrally located in downtown Des Moines. How about new company vehicles with custom logo wraps…Whatever project you have in mind to help grow your Iowa based business, you're probably going to need funding, and we can help. Fill out our online application!
First Union Lending: Growing Your Des Moines, Iowa Business
Traditional banks tend to present more hurdles than help. Let us guess, you got turned down because your FICO was too low, or you didn't have the collateral, not enough of a down payment. They want to find reasons not to lend you the money you need, whereas we want to find reasons to fund your Iowa company. Banks don't always look favorably on Des Moines small businesses. At First Union Lending, our loan agency serving Des Moines, we've worked with tons of companies throughout the state of Iowa—we understand the climate and the economy, and we know what it takes to make your business a success.
The products we offer—short term loans, bridge loans, equipment funding, long term loans, SBA loans, commercial property loans, lines of credit, debt consolidation, credit card processing, health care provider loans, invoice factoring, merchant cash advances, among others—are designed specifically for smaller businesses. And with resources ranging from 5k to 10 million, we have the cash to help your company now, not weeks or months from now. You simply fill out an online application and a personal advisor will be in touch to walk you through the rest. Streamlined and easy, our loan application process usually results in Des Moines area companies getting funding the same day.
So think about what you could do right now with an infusion of working capital. If you're a construction company based in Des Moines, IA, perhaps you need more equipment, better scaffolding, a better marketing plan in place. Maybe you're a medical practice and you're looking to upgrade the practice's software. For beauty salons, we've helped them get all new furnishings and remodel their existing facility.
The sky is the limit when it comes to how you can advance your small business in tandem with First Union Lending's commercial lending products. Our investment is in watching you succeed, not trying to find ways to put up roadblock after roadblock. Let's start this journey together. Speak to a specialist today!