Small Business Loans in Dallas, Texas
The 9th largest city in the United States and the third largest in Texas, Dallas is home to plenty of new and innovative ventures. Most people know Dallas for its football team, The Dallas Cowboys, Texas-style BBQ, and the John F. Kennedy Memorial Plaza, but there are plenty of other things Dallas is known for. For one, it has a unique history.
Texas and American History go hand in hand, as Dallas is home to many museums and organizations that preserve our American History. Besides its preservation of History, the region is well known for its economic History around agriculture, trade, and the railroad development through the state, which helped the area move from cotton production to oil! The Dallas Public Library is one of the few locations within the city where visitors can learn about American History in a way that is fun and personal. It's also the home of an original copy of the Declaration of Independence printed on July 4, 1776.
Today, Dallas is home to one of the largest art districts in the region. The Bishop Art District and the Dallas Design district contain about 19 blocks of street art, galleries, museums, venues, and pop-up vendors that showcase the culture of this bustling, history-rich city. Dallas is also home to one of the country's best park systems, as it holds over 397 parks and over 20,118 acres of land for public recreation. Talk about being open and welcoming to the community.
Dallas is a beautiful city known for more than just food, neighborhoods, and History. The people in the area show a sense of resiliency, determination, and community that makes the site a great place to live and a great place to own a flourishing business. With the number of things to do, people are constantly flocking to Dallas to learn, have fun, and enjoy a slice of southern hospitality.
If you're a business in Dallas, you understand the need to maintain a healthy business outlook and upkeep your environment to keep in line with the diverse, local community. Any necessary business venture you add to your belt increases the opportunity for your business to create a lasting impact on your community.
Where to Find Small Business Funding in Dallas, Texas
If you are a business owner based in Dallas, you are in a terrific spot. Did you know that Dallas was recently ranked in the top twenty as far as US cities in which to live…And it was also in the top ten regarding places to retire. It's no wonder why Dallas has been experiencing some significant population growth in the past few years. And for business owners, this means more clients to add to your base. Without question, an iconic US city, Dallas is home to so many notable locations and landmarks, everything from Dealey Plaza to AT&T Stadium, home of the Dallas Cowboys.
You understand the need to maintain a healthy business outlook and upkeep your environment to keep in line with the diverse community. Any business venture you add to your belt increases the opportunity to create a lasting impact on your community. But an increase in funds is generally needed to do so.
Rather than searching for a traditional lender with a lengthy application process, choose First Union Lending to provide you with business funding at an expedited rate. We help small and growing Dallas businesses achieve their goals and maintain success.
See Your Loan Options
Only U.S.-Based Businesses are Eligible.
The top four industries in Dallas, Texas
Dallas has a mix of industries that drive its economy forward. Four primary industries can capture hearts in this manufacturing-rich city. You can receive financial assistance through a business loan if relevant to your business.
Manufacturing

The talent doesn't just stop at the individual level; each professional brings innovation and hard-working talent to the forefront of Texas' manufacturing industry, with Dallas being the leading city. According to the National Association of Manufacturers, Texas is the nation's second-largest manufacturing workforce. Hundreds of companies within the state specialize in automotive, semiconductors and electronics, chemicals, and more.

Dallas has a large concentration of manufacturing companies, from big names to smaller companies. It is one of the leading industry drivers in this economy.

Construction

Dallas has long been a center for construction. There's no shortage of construction projects in the area. As a hot spot for professional services, retail locations, and growing startups, plenty of construction leads are available for small and growing companies. If you're a small construction company in the Dallas region, you understand the drive, tools, and creativity needed to maintain business success. We're here to help!

Retail

Did you know Dallas has more shopping centers per capita than any other city in the United States? Move over to Beverly Hills and Fifth Avenue! Dallas is also home to the Highland Park Village, the second-largest shopping center in the United States. Tourists worldwide flock to Dallas to shop at high-end stores and growing small businesses that can be found at the Dallas Galleria, North Park Center, and more! Retail being at the forefront of some of the industries in the region makes it the perfect business venture for any young professional or entrepreneur. Luckily, retail business loans are made to help businesses within this industry grow and remain successful during economic booms.

Professional Services

As the second-largest city in Texas, Dallas has a knack for attracting professionals with the drive and something to prove. Tech companies and professionals have an enormous opportunity to experiment with fresh ideas and innovative new startups, which have caused some to call Dallas the next potential Silicon Valley. The maverick spirit and the fearlessness of rodeo riders don't stop at the rodeo grounds. It can be seen in the young professionals with startups aimed at energy production, IT Services, Law, App Development, etc.

Dallas is home to over 22 Fortune 500 companies, including Exxon Mobil, JC Penney, AT&T, Texas Instruments, and more!
Grow your Dallas Texas based company with a business loan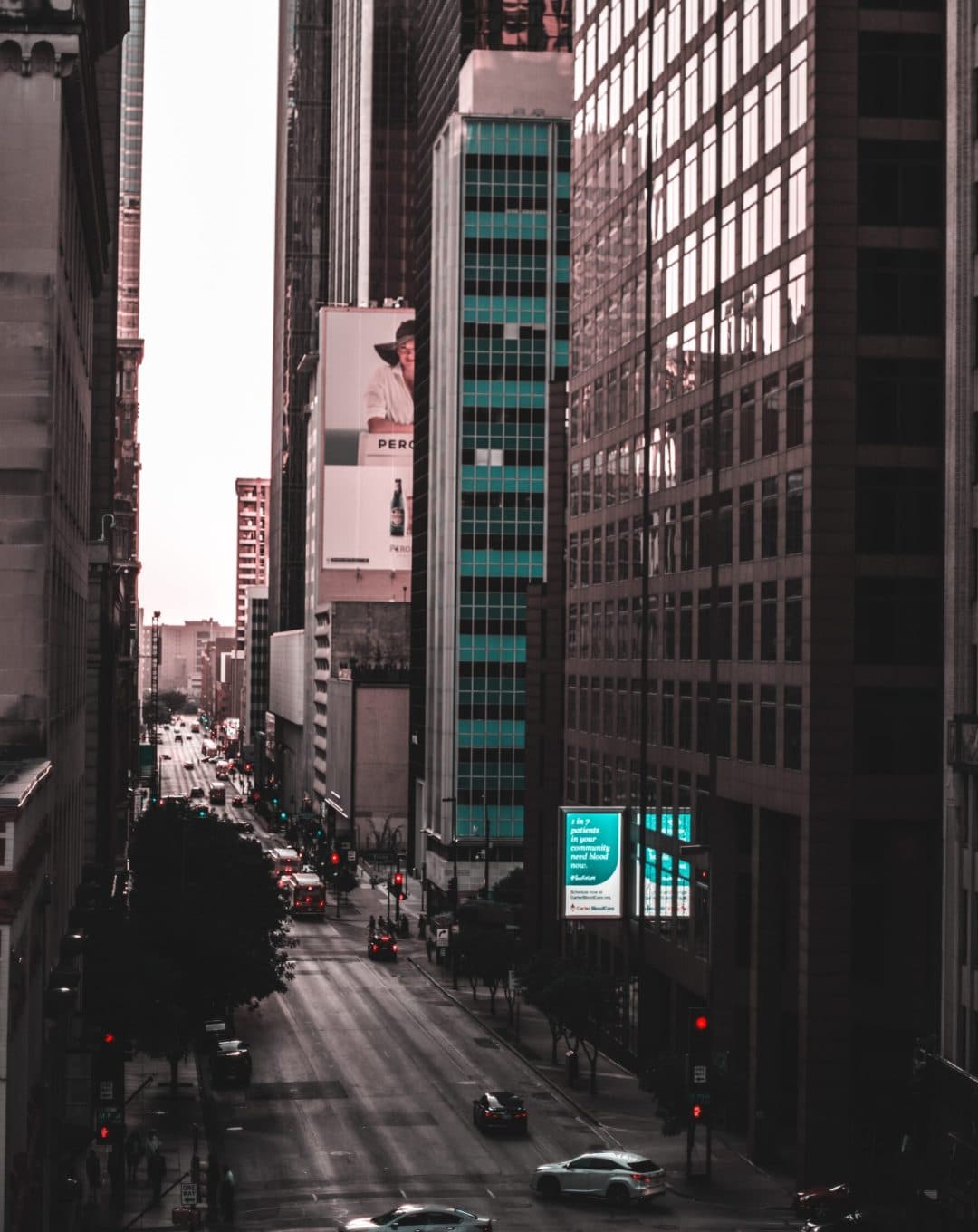 So why do nearly 7 million people opt to call Dallas, TX, home? Could it be because of the fantastic art and cultural scene here? You need to stroll through the Arts District to see some fantastic talent and breathtaking works of art. Dallas also still has a cowboy feel.
Its past is front and center in some ways, whether in the Dallas downtown region or on the outskirts of the Dallas-Fort Worth area. The city is also home to some prestigious universities: Southern Methodist and the University of Texas. As an entrepreneur in Dallas, you have access to incredible young professionals. Find out what you qualify for!
The time for you to do something big for your Dallas-based business is now—as they say, everything is bigger in Texas. So how will you get noticed? What can you do to attract more customers?
This might mean acquiring a competitor. Or how about hiring more dynamic staff? You may think about purchasing new company vehicles. Whatever the project, you'll probably need some additional capital to get it done. Call for a free consultation or fill out our online application, and we will reach out to you!
Uses of a Small Business Loan in Dallas, Texas
Businesses often utilize business loans to cover equipment, real estate costs, or working capital paid off between one and 25 years. Business loans can also purchase fixed assets or help maintain day-to-day operations. Most businesses use small business loans for the following:
Boost Your Cash Flow

Get small business financing to free up cash for immediate reinvestment in your company. You'll have more flexibility in financial decisions and be able to prioritize expansion rather than worrying about day-to-day expenses.

Buy New Equipment

It's essential to find the most powerful and modern tools to provide the best possible service to your clients. Buying equipment can add up quickly. We can work with you to find the best financing options for your small business.

Refurbish Your Premises

Maintaining or upgrading your company's facilities is an investment, especially if you're still in the early stages of growth. A small business loan can cover some or all of the costs involved in creating a clean and modern working environment to succeed and attract customers.

Hire Extra Staff

If you need to add top talent to your team but don't have the cash to do it, an option like a small business loan with competitive interest rates could be the way to get funding.

Cover One-Off Costs

A small business loan or line of credit can help you take advantage of any opportunities that come your way.

And Grow Your Business

We've helped thousands of established businesses in the United States grow, create new jobs, and stimulate economic growth in their local communities with the best trim business financing options for their needs.
First Union Lending is Here to Help Your Business Succeed
If you've already gone to a traditional Dallas area bank, odds are they gave you the runaround.
It probably kept you waiting for weeks, if not months, on a decision, only to return with a resounding no. This isn't how we operate—not even close. Our loan agency serving Dallas believes in finding ways to say yes, as we want your small business to thrive and grow! This is our philosophy of commercial lending. We make the process as easy as possible. Just fill out an online application and submit the requested documents; that is all there is.
You deserve a financial solution custom-tailored to your business's needs. We've partnered with so many companies throughout the Dallas-Fort Worth region, and we get that each one is unique. This means no off-the-shelf approach with us.
With short-term loans, lines of credit, long-term loans, commercial property loans, debt consolidation, bridge loans, credit card processing, health care provider loans, equipment financing, invoice factoring, and SBA loans, among other financing options, we have the flexibility to get you the cash you need quickly. Some get funded within as little as 24 hours—we do move that efficiently. We get that the pace of business in Dallas is pretty fast, and we see it as our job to help you keep up.
So what would you do with a loan from First Union Lending—the sky is the limit in Dallas, TX.From launching a new marketing campaign to rolling out a new product, we have the money you need. With resources ranging from 5k to one million, we're ready when you are. Don't be disheartened by local banks. Alternative lenders are the go-to funding solution for small Dallas businesses. Speak with a specialist, and let's start this journey together!